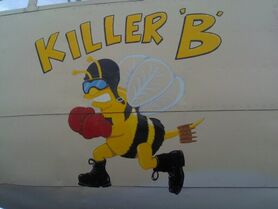 History: Delivered to USAAF as 44-86697, 19??. Delivered to RCAF as 5239.
- BOC: Jan. 24, 1952.
- SOC: May 23, 1962.
Columbus L. Woods/Woods Body Shop, Lewistown, MT, Apr. 10, 1962-1963.
- Acquired from Canadian Crown Assets.
- Registered as N92876.
Bellomy Aviation, Miami, FL, Aug. 1963. Delivered to Venezuelan AF as FAV 11A40, 0953, Dec. 1963.
- Noted in open storage, El Libertador AB, Venezuela, 1991.
Aztec Aviation Consulting, Miami, FL, July 1992. Steven A. Detch, Alpharetta, GA, Sept. 1992.
- Dismantled in Venezuela and crated, shipped to USA.
Tricon Aero Corp, Elmwood Park, NJ, Sept. 1992. William P. Leary/Tricon Aero Corp, Elmwood Park, NJ, Feb. 17, 1993-2002.
- Registered as N62163.
- Rebuilt to airworthy by Tom Reilly aviation, 1993-1995.
- First flight, Aug. 1995.
- Flown as "Killer B" in RAF camoflage.
- Operated by Flying Tigers Warbird Restoration Museum , Kissimmee,FL.
Notes
Gallery
Ad blocker interference detected!
Wikia is a free-to-use site that makes money from advertising. We have a modified experience for viewers using ad blockers

Wikia is not accessible if you've made further modifications. Remove the custom ad blocker rule(s) and the page will load as expected.