BW Boeing-Wichita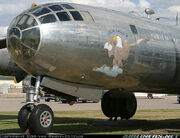 44-87779 B-29-90 BW c/n 12582
Sent to NAWS China Lake, California in 1956 for use as a test target.
Recovered in 1985 by the South Dakota Air & Space Museum for display.
South Dakota Air and Space Museum, Ellsworth AFB, South Dakota.
On outdoor display at the South Dakota Air & Space Museum at Ellsworth AFB, Rapid City, South Dakota.  Improperly marked with WWII era 6th BG markings and Korean War era United States Air Force on the fuselage, and displayed without gun turrets.
Aircraft was polished several years ago.
Ad blocker interference detected!
Wikia is a free-to-use site that makes money from advertising. We have a modified experience for viewers using ad blockers

Wikia is not accessible if you've made further modifications. Remove the custom ad blocker rule(s) and the page will load as expected.