BN-Boeing-Renton
42-93967 B-29A-15-BN c/n 7374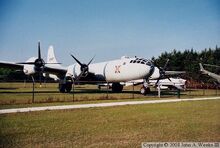 Flew with the 330th Bombardment Group out of North Field, Guam (now Andersen AFB) with the nose art "City of Lansford, PA."
Later, at an unknown date, it was converted to a reconnaissance configuration, and was designated an F-13 (F- for Photo recon).
The aircraft is currently on outdoor display at the Georgia Veterans Memorial State Park in Cordele, Georgia.
The interior is vandalized, and the aircraft is displayed in inaccurate markings.
The only remaining F-13 (RB-29)
Gallery
Gallery
Ad blocker interference detected!
Wikia is a free-to-use site that makes money from advertising. We have a modified experience for viewers using ad blockers

Wikia is not accessible if you've made further modifications. Remove the custom ad blocker rule(s) and the page will load as expected.