BN Boeing-Renton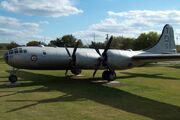 44-62220 B-29A-70-BN c/n 11697
Sent to Aberdeen Proving Grounds, Maryland in 1960 for use as a test target.
Retrieved in 1985 for display at Kelly AFB.
Moved to Lackland AFB after the closure of Kelly AFB.
Currently on outdoor display as "Joltin' Josie the Pacific Pioneer" with no gun turrets installed at the US Air Force History & Traditions Museum, located on the grounds of Lackland Air Force Base in San Antonio, Texas.
Ad blocker interference detected!
Wikia is a free-to-use site that makes money from advertising. We have a modified experience for viewers using ad blockers

Wikia is not accessible if you've made further modifications. Remove the custom ad blocker rule(s) and the page will load as expected.