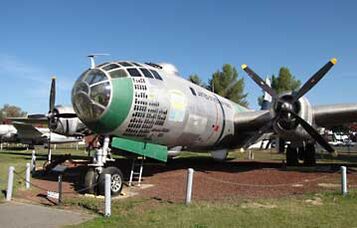 BN-Boeing-Renton
44-61535 B-29A-35-BN
Flew with the 28th Bombardment Squadron, 19th Bombardment Group out of Kadena Airbase during the Korean War.
Carried nose art "Raz'n Hell."
Flew at least 50 combat missions over North Korea.
Returned to the United States following the cease fire in Korea.
Sent to NAWS China Lake in 1957 for use as a test target.
Recovered in 1980 by the Air Force Museum at Castle Air Force Base in Atwater, California for display.

Rebuilt using the tail section of B-29A-35-BN 44-61535, the outer wings of B-29B-60-BA

44-84084 - outer wings, B-29-**-BW 44-70064 - fuselage & inner wings. Different sources have this airframe listed with each of the 3 serial numbers.
Upper forward gun turret is an improper type.
Ad blocker interference detected!
Wikia is a free-to-use site that makes money from advertising. We have a modified experience for viewers using ad blockers

Wikia is not accessible if you've made further modifications. Remove the custom ad blocker rule(s) and the page will load as expected.