BW Boeing-Wichita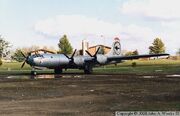 44-61671 c/n 11216 B-29A-40-BN
.THE GREAT ARTISTE
Whiteman AFB, Missouri
Name not original to the aircraft. This aircraft was the original SB-29 Air/Sea Rescue aircraft. Recovered from Aberdeen Proving Grounds and put on display at Pease AFB, New Hampshire until that base closed. Outdoor display. In 2005 the aircraft received a full paint job.
Gallery
Ad blocker interference detected!
Wikia is a free-to-use site that makes money from advertising. We have a modified experience for viewers using ad blockers

Wikia is not accessible if you've made further modifications. Remove the custom ad blocker rule(s) and the page will load as expected.