Consolidated B-24 Survivors
Talk

0
135pages on
this wiki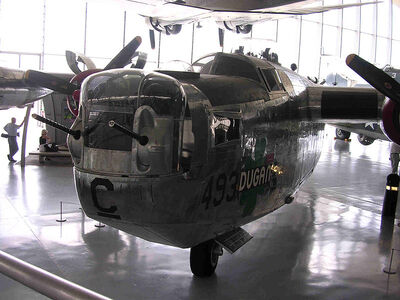 Consolidated B-24 Survivors highlights the history of many well known flying and static display Consolidated B-24s as well as PB4Y-2's in the United States. A list is also provided of other B-24's on display around the world; including location, model and serial numbers, brief history, nicknames/markings, and conditions.


Background
Edit
By the time the last complete B-24M came off the Willow Run assembly line in July 1945, 18,482 Liberators had been built by the five B-24 manufacturers. An additional 774 PB4Y-2 / RY-3 were further produced by Consolidated San Diego.
The B-24 was quickly declared obsolete by the USAAF and the remaining stateside aircraft were flown to desert storage in the south-west. In the Pacific theatre, many aircraft were simply parked, the oil drained from the engines and left for reclamation. By 1950, except for the one B-24D held for preservation, the vast fleet of Liberators were gone. In 12 May 1959, the last flight of a B-24 by the USAF flew from Davis-Monthan to the Air Force Museum at Wright Patterson AFB where it is now on display.
With the USN and USCG, the PB4Y-1 continued until early 1950s when they were retired to NAS Litchfield. The remaining PB4Y-2 (now redesignated P4Y-2) remained in inventory until the early 1960s when they were either retired to desert storage or expended as targets (as QP4Y-2K). After retirement from active service, these aircraft took up a second career during the late 1960s to the late 1990s as aerial tanker aircraft. It was only after a series of fatal accidents was the remaining PB4Y-2's were again forced into retirement
While both the RAF as well as the RAAF were willing to continue operating the B-24, the terms of the lend-lease agreements stipulated that these aircraft were to be either paid for or returned (i.e. scrapped) and vast graveyards of aircraft accumulated in India as well as Tarakan, Australia.
When India gained independence in 1947, 37 Liberators were resurrected and gave service until their retirement in 1968. It is from the IAF that the majority of the remaining B-24 owe their existence.
In 1948 when Israel was looking for aircraft, the Royal Australian Air force was approached with the offer to purchase 25 aircraft, but since these aircraft had not been stored with long-term preservation in mind, they were neither airworthy nor economically feasible to restore to flyable condition.
With the availability of intact, existing airframes beginning to diminish, the warbird movement since the late 1990s has been seeking out previously considered unrecoverable airframes for restoration. The RAAF has three airframes in storage (serials unknown) which were recovered when they restored their museum aircraft. Both India and China are reported to have additional recoverable aircraft and the jungles of the Southwest Pacific still hold abandoned aircraft.[1]
B-24 Survivors
Edit
Each line describes one remaining complete or partial airframe. Each line is broken down into several sections:
Aircraft number
History
Markings
Holder
Location
Condition
B-24J-85CF 44-44052
(N224J)
ex-RAF Liberator GR VI (KH191) No 8 Sqd,
ex-Indian Air Force "T-18"
Q2 M Witchcraft
Collings Foundation
Stowe, MA
(A)
Aircraft number describes the type of aircraft and model B-24J-85CF its s/n 44-44052
and current registration (N224J).
History tells the history (oldest to newest):
ex-RAF Liberator GR VI (KH191)
ex-No 8 Sqd

ex-Indian Air Force "T-18"
Markings deals with current markings, codes first then name: Q2 M Witchcraft
Holder is current owner or museum: Collings Foundation
Location deals with location where it might be seen or owner's address: Stowe, MA
Condition:
(D) = Display
(A) = Airworthy
(S) = Stored
(R) = Under restoration
(W) = Wreck
(U) = Unknown
If latitude and longitude points are given, aircraft is on permanent outside display and can be seen using Google maps.
B-24A CO Consolidated-San Diego
Edit
B-24A-CO c/n 27 40-2369, Robert Kropp, Mesa, AZ (S) note: nose section only
Liberator II CO Consolidated-San Diego
Edit
Liberator GR.II CO c/n 55 AL557 (N92MK), ex-No 120 Sqn, ex-1445 Flt, ex-159 Sqn, ex-BOAC "G-AGZI" (North Atlantic Return Ferry Service), Vintage Aircraft Ltd, Ft Collins, CO (S)
B-24D CO Consolidated-San Diego
Edit
B-24D-CO c/n 25 40-2367 (N58246), ex 11th AF / 21st BS /28th Composite Group - 18 combat missions (Pilot Captain John Andres) - crashed 9 December 1942, Bechevin Bay, Atka, AK (W) [5]
B-24D-25CO c/n 1096 41-24301, ex-9th AF / 376th BG / 514th BS, (Pilot 1st Lt. William J. Hatton) - crashed 4 April 1943 " 64X Lady Be Good ", Tobruk, Libya (S) note: wreckage only
B-24D-70CO c/n 1634 42-40557, ex-RAF Liberator GR V BZ755, ex-RCAF 600, ex-RCAF 10 Sqd(BR) "N - Nanette", " Fighting Sam ", (D) note: nose section only
B-24D unknown s/n, " Hail Columbia ", Fantasy Of Flight Museum, Polk City, FL (D) note: nose section only
B-24J CO Consolidated-San Diego
Edit
B-24J-20CO c/n 2758 42-73188, ex-14th AF / 308th BG / 374rd BS - 10 combat missions, " Forever Amber ", The CAF Airpower Museum, Midland, TX (D) [13] : note: nose art panel only
B-24J-205-CO c/n 5264 44-41328, ex-PB4Y-1 38923, ex-VPB-200, ex-VPB-116 "Easy Maid", SOC: NAS Clinton, " Easy Maid ",The CAF Airpower Museum, Midland, TX (D)[14]
note: nose art panel only
note: nose art panel only
B-24J-190-CO c/n 4944 44-41008, ex-15th AF / 49th BW / 451st BG / 727nd BS, " Sloppy but Safe " - 90 combat missions,, The CAF Airpower Museum, Midland, TX (D) [17]
note: nose art panel only
B-24J CF Consolidated-Fort Worth
Edit
note: nose art panel only
B-24J-90CF c/n 1557 44-44262, ex-RAF Liberator D VI KH391, ex-Indian Air Force HE846, ex-No. 6 Sqn "D", Pooma AB, India (S?)
B-24J-90CF c/n 1558 44-44263, ex-RAF Liberator B VI KH392, ex-Indian Air Force HE846, ex-No. 6 Sqn "T", Pooma AB, India (S?)
B-24J-90CF c/n 1567 44-44272 (N94459), ex-RAF Liberator B VI KH401 No 357 Sqd, ex-Indian Air Force aircraft HE771, ex-No. 6 Sqn "P", " RR * R+ Joe ", Fantasy of Flight (FoF), Polk, FL (A) [23][24]
B-24J FO Ford-Willow Run
Edit
note: nose art panel only
B-24J-20FO c/n 3636 44-48781, ex-Spartan School of Aeronautics, " WQ * E Louisiana Belle II ", Eighth Air Force Museum, Barksdale AFB, LA (D) (N32 30' 43.41" W93 40' 53.58")

B-24J-20FO 44-49781
Louisiana Belle II
8th AF Museum
B-24L CO Consolidated-San Diego
Edit
B-24L FO Ford-Willow Run
Edit
B-24L-1FO c/n 3867 44-49112, ex-RAF Liberator GR.VIII KL506, ex-RCAF 11120, SOC: Oct 7, 1946, Michigan Historical Museum, Lansing, MI (D)
note: nose section only
note: nose art panel only
B-24L-20FO 44-50206
RAF Museum - Hendon

B-24L-20FO c/n 6707 44-50206, ex-RAF Liberator B.VIII KN571 ex-231 Group / No. 99 Sdn (Madras Presidency) "F", ex-Indian Air Force HE807, ex-No. 6 Sqn "K", RAF Museum (RAFM), Hendon, London, England (D), [30][31]
B-24M CO Consolidated-San Diego
Edit
B-24M-10CO c/n 5852 44-41916 (N4907L), ex-USN PB4Y-1 Bu 90165, ex-OTU-1 VB-4, ex-NAS Hutchinson, ex-Boliviana de Aviacon CB-76, ex-Bolivian Overseas Airways CP-576, " Circle-B RE * H The Blasted Event ", Castle Air Museum (CAM), Castle AFB, Atwater, CA (D) (N37 21' 52.93" W120 34' 42.46")
note: wings from B-24D-13CO 42-41091 [34]
B-24M-10CO c/n 5956 44-42020, ex-14th AF / 308th BG / 374th BS, " Squeeze ", The CAF Airpower Museum [[[CAF Airpower Museum|(CAF)]], Midland, TX (D)[35]
note: nose art panel only
note: nose art panel only
note: s/n either 44-42095 or 44-42096
note: nose art panel only
note: nose art panel only
B-24M FO Ford-Willow Run
Edit
B-24M-5FO c/n 2414 44-50529, ex-8th AF / 2nd AD / 2 CBW / 453rd BG / 732nd BS "Circle-J E8 * ?", ex-8th AF/ 2nd AD / 14th CBW / 491st BG / 852nd BS, "Circle-Z 3Q * ? Flamin' Mamie", ex-RFC Walnut Ridge, AR, SOC: Jan 14, 1946, " Flamin' Mamie ", The CAF Airpower Museum (CAF), Midland, TX (D) [43] note: nose art panel only
B-24M-15FO c/n 5811 44-50956, ex-14th AF / 308th BG / 374th BS "Surprise Attack", ex-RFC Walnut Ridge, AZ, SOC: Nov 3, 1945, " Surprise Attack ", The CAF Airpower Museum (CAF), Midland, TX (D)[47] note: nose art panel only
B-24 (unknown)
Edit
B-24J s/n unknown, Popondetta, Papua New Guinea (W) [50]
B-24 (Replica)Edit
B-24M-20CO 44-51228, RE * Z, USAF History and Traditions Museum, Lackland AFB, TX (D) [58] (N29 23' 23.37" W98 37 06.41")
PB4Y-2 CO Consolidated-San Diego
Edit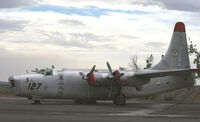 PB4Y-2S-CO 59819 (N3739G), ex-VPB-120, ex-VP-HL-10, ex-FASRON-112,ex-NAS San Diego, ex-VP-HL-6, ex-VP-26 NAS Pax River, ex-Air Tanker "30" , Lone Star Flight Museum (LSFM), Galveston, TX (R)[62][63]
PB4Y-2-CO 59876 (N6813D), ex-VB-197 NAS Miramar, ex-VPW-1, ex-HDN-2 FAW-14, ex-NAS Corpus Christi, ex-PB4Y-2G, ex-USCG Barbers Point, SOC: NAS Litchfield Park ex-Hawkins & Powers air tanker "A25", "B25", "125", Yankee Air Museum (YAM), Belleville, MI (S)
PB4Y-2M-CO 59932 (N9829C), ex-VPW-3, ex-VPM-3, ex-VP-HL-3, Tom Reilly Vintage Aircraft, Kissimmee, FL (W) note: fuselage only
PB4Y-2-CO 66300, (N2872G), ex-PB4Y-2G ex-USCG Elizabeth City, ex-air Tanker "B24" & "124" " 124 ", Hawkins & Powers Aviation, Greybull, WY (S) (N44 30' 39.92" W108 04 50.03")
PB4Y-2-CO 66302, (N2871G), ex-PB4Y-2G ex-USCG Elizabeth City, ex-air Tanker "B21" & "A20" & "121", " 121 ", Hawkins & Powers Aviation, Greybull, WY (S) (N44 30' 40.61" W108 04 49.95")
References
Edit
External links
Edit
Template:Commons Template:Commonscat
Cite error: <ref> tags exist, but no <references/> tag was found