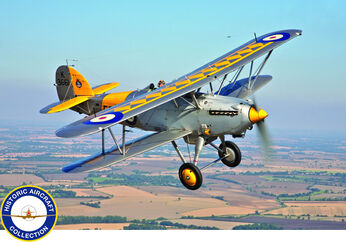 Hawker Nimrod 'K3661' (Reg No. G-BURZ) is owned by the Historic Aircraft Collection (HAC), based at Duxford Airfield. It currently wears the markings of 'K3661' 802 Sqn FAA '562'. K3661 resides in Duxford's Hangar 3, alongside other HAC machines such as Spitfire 'BM597',Hurrricane 'G-HURI' and Fury K5674.
For more infomation aabout this airframe see here
---
Ad blocker interference detected!
Wikia is a free-to-use site that makes money from advertising. We have a modified experience for viewers using ad blockers

Wikia is not accessible if you've made further modifications. Remove the custom ad blocker rule(s) and the page will load as expected.