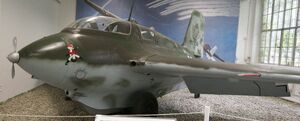 It was sent to England, arriving first at Farnborough, receiving the RAF Air Ministry number AM219 and than transferred to Brize Norton on 8 August 1945, before finally being placed on display at the Station Museum at Colerne. When the museum closed in 1975 the aircraft went to RAF St Athan, receiving the ground maintenance number 8480M. On 5 May 1988 the aircraft was returned to the Luftwaffe and moved to the Luftwaffe Alpha Jet factory at the air base in Oldenburg (JBG 43). The airframe was in good condition but the cockpit had been stripped and the rocket engine was missing. Eventually an elderly German woman came forward with Me 163 instruments that her late husband had collected after the war, and the engine was reproduced by a machine shop owned by Me 163 enthusiast Reinhold Opitz. The factory closed in the early 1990s and the "Yellow 25" was moved to a small museum created on the site.
The museum contained aircraft that had once served as gate guards, monuments and other damaged aircraft previously located on the air base. In 1997 "Yellow 25" was finally moved to the official Luftwaffe Museum located at the former RAF base at Berlin-Gatow, where it is displayed today alongside a restored Walter HWK 109-509 rocket engine.
Ad blocker interference detected!
Wikia is a free-to-use site that makes money from advertising. We have a modified experience for viewers using ad blockers

Wikia is not accessible if you've made further modifications. Remove the custom ad blocker rule(s) and the page will load as expected.