Survivors List
41-xxxx
Forth production Mustang.
First of two XP-51s passed to Wright Field for USAAC evaluation.
Later passed to the RAF as AG348.
Rebuilt in the 1970s.[1]
42-xxxx
43-xxxx
43-25147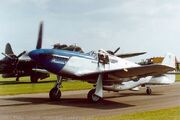 NAA Type:P-51C-10NT
Serial #:43-25147
Registry: N487FS
past: N51PR, G-PSIC
44-xxxx
Serial #: 44-74977  Construction #: 122-41517
Civilian Registration: N5448V[N 1]
Model: P-51D-30NA
Name: None
Status: Airworthy
References
↑

World Aircraft Information Files - World Military Aircraft. File 231 Sheet 2.
Ad blocker interference detected!
Wikia is a free-to-use site that makes money from advertising. We have a modified experience for viewers using ad blockers

Wikia is not accessible if you've made further modifications. Remove the custom ad blocker rule(s) and the page will load as expected.