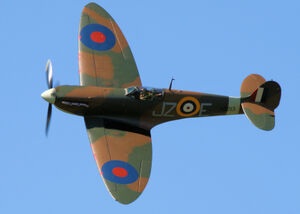 All information from Spitfire the History except where noted.[2]
Built by Westland Aircraft under contract No B124305/40.
Sent to 12MU 24 July 1941.
Transferred to 57 OTU and coded JZ-E[3] 31 July 1941.
Category AC flying accident 19 April 1943
Struck off charge 30 August 1945
Sold to Allen Wheeler 10 March 1947
Refurbished for use in Battle of Britain film 1967[3]
Sold to Patrick Lindsay 1978
Passed to Victor Gauntlet 1986 after death on Patrick Lindsay[3]
Used for LWT miniseries Piece of Cake 1988[4]
Sold to Spitfire The One Ltd and based at Duxford 2011 .
References
↑

Mogran, Eric and Shackalady, Edward. Spitfire the History. Key Books Ltd. 2000
Ad blocker interference detected!
Wikia is a free-to-use site that makes money from advertising. We have a modified experience for viewers using ad blockers

Wikia is not accessible if you've made further modifications. Remove the custom ad blocker rule(s) and the page will load as expected.