Mk IIA. Built at Castle Bromwich in 1940.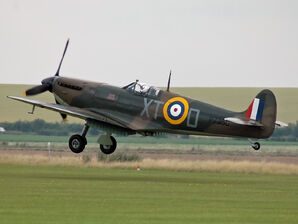 Remained with the unit until damaged in combat on October 25.[3].
Transferred to Scottish Aviation Limited August 5.
Assigned to Central Gunnery School April 27 1942 to February 4 1943[1]
Sold for scrap, but later presented to RAF Colerne.
Displayed until restored for Battle of Britain film in 1967.
References
↑ 1.0 1.1 1.2 Morgan, Eric and Shackleday, Edward. Spitfire the History. Key Books Ltd. ISBN 0-946219-48-6. (2000)
↑ 2.0 2.1 Caygill, Peter. Combat Legend Spitfire Mks 1-V. Airlife Books. ISBN 1-84037-391-1. (2002)
↑

Real Warbirds Supplement states P7350 joined 616 on March 18