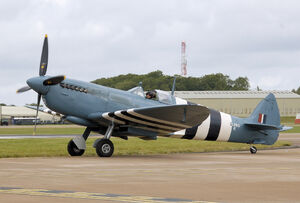 Built at Aldermaston and delivered to 9MU - October 1944.
Flown to 34 Wing's base at Melsbroek - January 14 1945.
First Operation flown by Flt Lt Ken Snell on January 24, photographing sidings at Mechernich near Cologne during and after attack by P-47s.
Used by Flt Lt Gordon Bellerby to photograph a V2 Transport train at Osnabruck - March 21.
Used by Flt Lt 'Tommy' Thompson to carry out bluff attack on two Me 262s over Breman - April 5.
Sold to RNethAF as instructional airframe for £25 - July 1947.
Went on show at the National War and Resistance Museum at Overloon - 1960.
Acquired by Nick Grace and returned to Britain for restoration by Medway Aircraft Preservation Society - 1987.
Returned to the skies in the hands of the late Mark Hanna - Dec 1992
Sold by Real Aircraft Company at Breighton to Peter Teichman 2004.[1]
Based at the former WWII airfield at North Weald, Essex and becomes part of Teichman's Hangar 11 Collection.
Airworthy after restoration which included installing her original wartime 1945 Merlin 70 engine on which some 25 missions were flown. - Nov 2010
References
↑

Real Warbirds supplement to Aeroplane Magazine June 2005
Gallery
---