History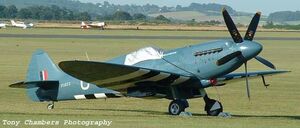 Built at Southhampton.[1]
Delivered to Central Photographic Reconnaissance unit at Benson January 13 1945.[2]
Transferred to 16 Sqn, then to 268 Sqn and back to 16 Sqn. on Sep. 18, 1945.
Delivered to 29 MU, Mar. 1946.
Damaged in Flying accident on Jan. 17, 1949.
Returned to manufacturer for repairs, Mar. 9, 1949.
Delivered to 6 MU on Feb. 29, 1950.
Delivered to Short Brothers at Hooten Park, July 1950. Assigned to Meteorological Research Flight. Final flight June 9, 1957.
Battle Of Britain Memorial Flight, June 14th, 1957 - Nov. 8, 1957.
Delivered to 32 MU, Nov. 8, 1957.
Allocated to Biggin Hill's station flight on Dec. 20, 1957.
Transferred to North Weald Staion flight on Mar. 1, 1958.
Delivered to Central Fighter Establishment on Apr. 14th, 1958
RAF West Raynham, 1958-1961. Gate Guardian as 7548M.
Delivered to 19 MU. - Restored to flying condition.
RAF West Raynham, Nov. 1962-1964.
Transferred to BBMF on April 14, 1964. - Flown in movie "Battle of Britain".
Euan English, North Weald, Feb. 17, 1995-1996.
Sold to Rolls Royce PLC, Corporate Heritage Dept, Bristol-Filton, 1996-2002 to fund restoration of BBMF Hawker Hurricane LF363 - Registered as G-RRGN, Dec. 1996.[1]
Flown on Oct. 9th 2012 after extensive refurbishment by Aircraft Restoration Co. at Duxford.
References
↑

The Real Warbirds supplement to Aeroplane Magazine June 2005
Ad blocker interference detected!
Wikia is a free-to-use site that makes money from advertising. We have a modified experience for viewers using ad blockers

Wikia is not accessible if you've made further modifications. Remove the custom ad blocker rule(s) and the page will load as expected.